We have experienced physiotherapists in Melbourne that provide the best treatment for acute and chronic musculoskeletal disorder. Using a combination of long-established manual therapies as well as clinical Pilates, our team helps diagnose and manage any type of injuries.
Having served a wide variety of people from the local community means we have extensive experience treating patients of different ages whether it's preschoolers or senior citizens.
Physiotherapists are taught to help and diagnose the particular cause of spinal, muscle, peripheral joint or any other nerve injury to offer the effective treatment. When you visit our physiotherapist in Melbourne at our clinic, a thorough assessment will be provided to you. The practitioner will then explain the underlying cause and offer the right diagnosis. Through this you and the physiotherapist can decide on the treatment options that suit you best and use the right approach to back to your regular condition.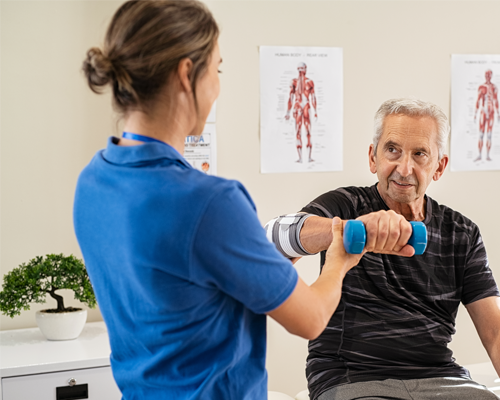 The treatment we offer include:
Joint manipulation
Cording or postoperative scarring treatment
Lymphedema physiotherapy
Massage for soft tissues
Stretches
Exercises
Dry needling
Osteroporisis
Diabetes
Rehabilitation for post surgeries
Spondylolisthesis
Injuries related to acute disks
Injuries related to acute joints
Core weakness
Sciatic pain
Sports injuries treatment
Back pain treatment
Fitted garment measurements
Along with general physiotherapy, we also pay attention to Exercise Science to assist clients in building strength in their body and prevent the recurrence of any pain.
Based on what is important for your body, we are able to tailor the ideal strength and conditioning session for you. This is whether you need to prepare for your regular heavy-duty day-to-day activities, shape muscles for any sport sessions, or to just make yourself strong and healthy.
Our approach to physiotherapy is based on functional improvements that are irrespective of any age, hobbies, or conditions. We don't have a traditional environment. However, provide a bright and uncluttered space to our clients. This is because we believe the sole objective should be to focus on strength training and rehabilitation. We have no music, extra equipment, or any distractions in our therapy area as we believe this creates a fitness center that is welcoming for patients with different types of physical ability.