SCULPT YOUR BODY LIKE NEVER BEFORE WITH EMSCULPT
Emsculpt is a ground-breaking non-invasive technique for body contouring that's meant to bring you in shape in no time. This cutting-edge treatment is not only effective at reducing fat but also at building and toning muscles. All in all, a perfect choice for those that want to build their physique without only reducing their waistline
Being FDA-cleared Emsculpt uses the revolutionary HIFEM energy. It's a scientifically-proven method to help stimulate any muscle contractions in your abdomen and buttocks. A single session is equivalent to doing nearly 20,000 squats or crunches, or doing muscle toning in a way that's impossible to gain at the gym. The results boast a slimmer, and much sculpted appearance, perfect with chiseled abs and rightly-toned buttocks.
Build your muscles and burn fat effortlessly without breaking a sweat at Pakenham Medical Clinic. Book a free appointment to get a pricing estimate. Fill the form through the health engine or simply call 0359416455 to get in touch with our friendly team and learn more.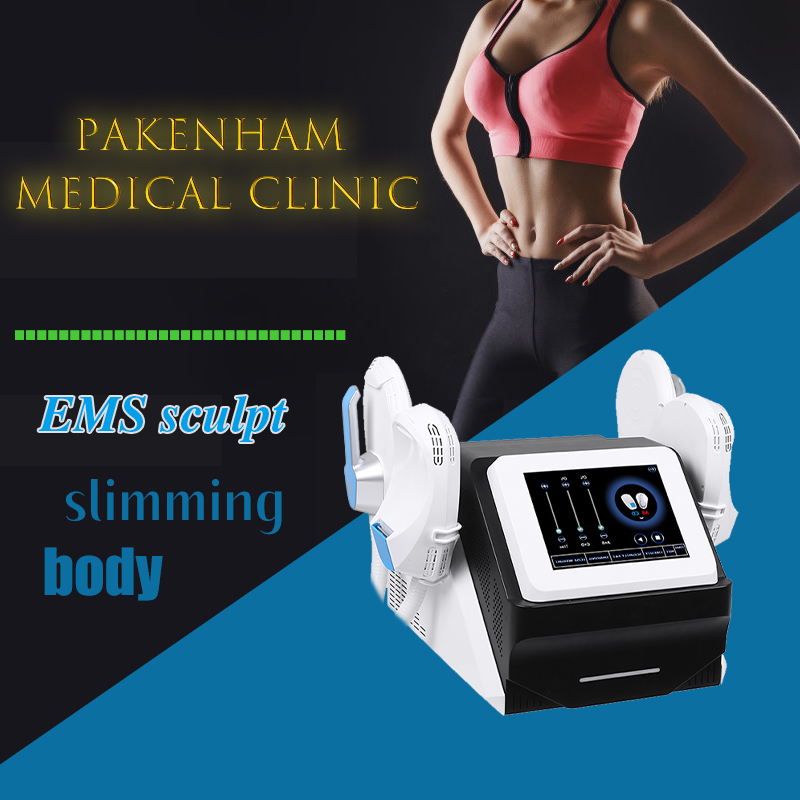 Why Should I Do Emsculpt Body Contouring?
Helps build and strengthen muscles and tone
Melts unnecessary bulges
Shapes abs and minimises belly fat
Lifts and shapes the buttocks
Empowers and sculpts thighs as well as calves
Helps build triceps and biceps
Hassle-free butt lift
Safe, requires no downtime, and is non-invasive
Relatively painless and quick 30-minute treatment
Medically proven and FDA cleared
Brings natural looking and long-lasting results
Did you know that Emsculpt is the one and only procedure that is meant to help both men and women shape their muscles and burn any fat both rapidly and naturally? While most treatments for body contouring involves clearing unwanted fat, Emsculpt follows a unique approach to treat both muscles and fat.
Emsculpt works by channelling highly-targeted electromagnetic energy on the treatment area which forces your muscles to contract in a certain way not achievable through workout. The specific muscles, in response to such contractions, start to reconstruct themselves. The fat also melts away easily.
That being said, both men and women can equally benefit from the Emsculpt treatment.
What Should I Expect During the Treatment?
Firstly, your treatment plan will commence following a consultation where you'll get to share your fitness or aesthetic goals with us. Once determined that you're fit for an Emsculpt treatment, we'll tailor a unique treatment plan to meet your certain goals.
The treatment itself is non-invasive and will need no downtime for recovery or any type of preparation. The treatment will last for 30 minutes needing 4 sessions which will be divided across a span of 2-3 days. It will mostly feel like a workout but you will be allowed to lay and relax throughout the treatment.
What About Results?
Following your Emsculpt treatment, you'll feel visible results right after your session. Positive results will most likely be experienced in a few weeks after your last session. The results will definitely improve over the course of several weeks post the treatment.
You'll be required to undergo multiple treatment sessions to get the desired results. Most patients see good benefits after undergoing at least 4 treatments, spaced certain days apart. Once you're done with the series of treatments, you'll definitely see noticeable results in a few weeks.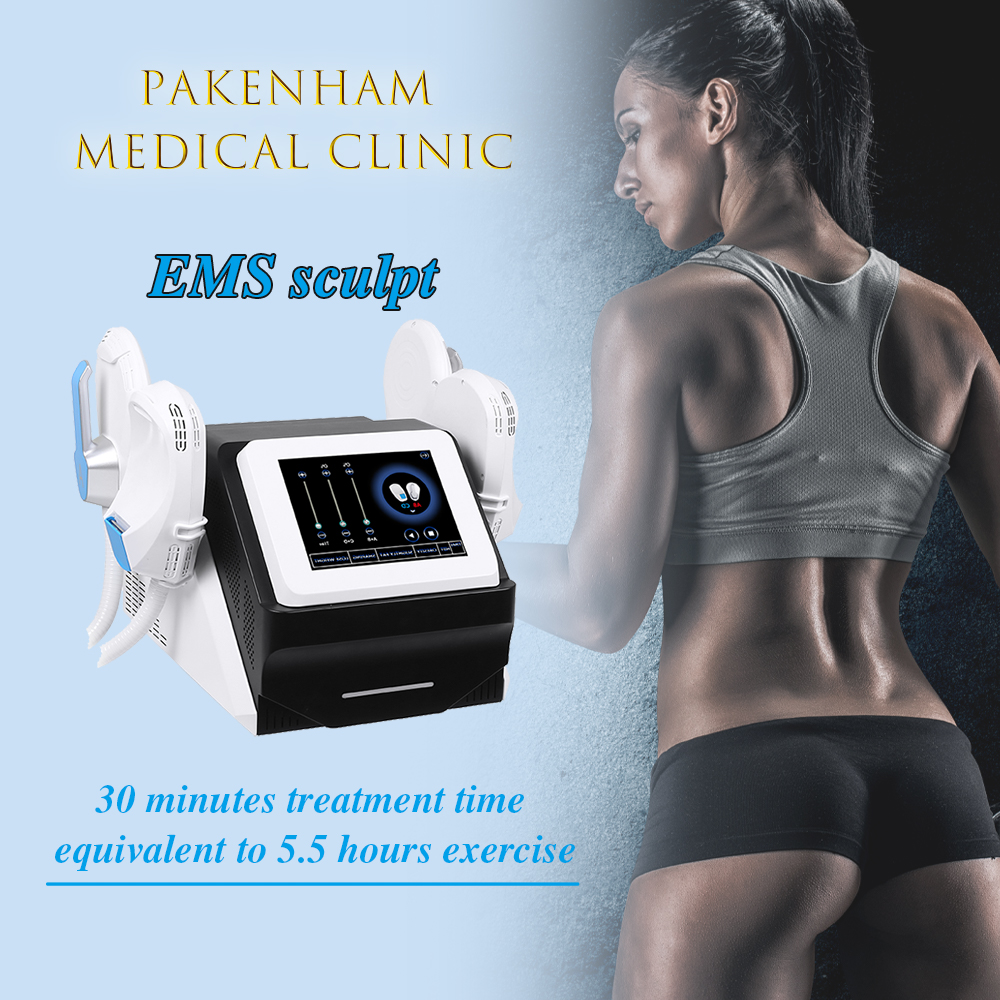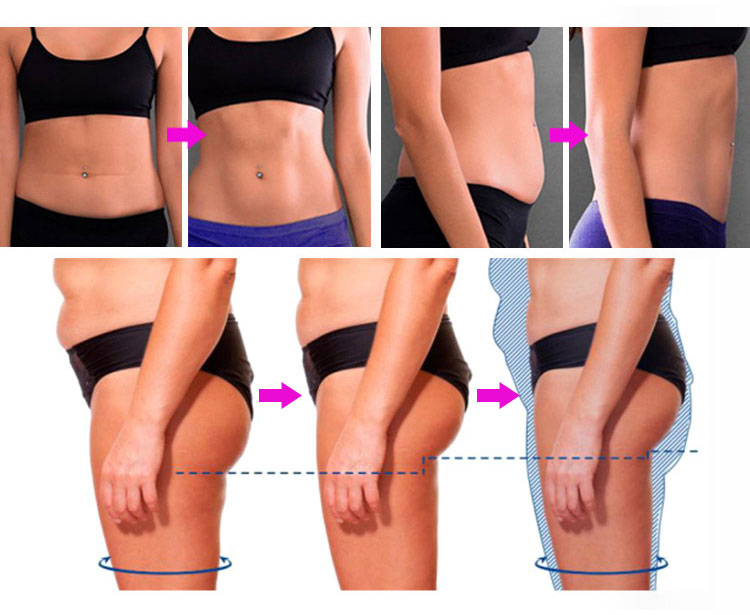 AN EMSCULPT TREATMENT FOR BODY SCULPTING WILL:
Build and shape muscle tones
Enhance the overall definition of your muscles and increase mass
Bring a non-surgical Brazilian butt lift
Be FDA-approved, comfortable, and safe
Need no downtime
Last longer
Melt deeper fat with ease
HOW DOES EMSCULPT ACTUALLY WORK?
The HIFEM energy works to build muscles and helps burn fat.
 EMSCULPT SUCCESSFULLY SCULPTS, TONES AND STRENGTHEN MUSCLES
Being FDA approved, Emsculpt works to target several aspects of your body like abdomen, biceps, triceps, thighs, and glutes. At the time of treatment, an applicator will be placed over your muscles (even on top of clothes). The energy received through the applicator then treats the underlying tissues which causes supramaximal contractions.
It's these specific contractions which are immensely powerful and effective than everyday gym workouts. It's thus said that a single session involving Emsculpt brings the same result as doing almost 20,000 crunches, bicep curls, triceps and squats. That's more than what people do throughout their lives.
 EMSCULPT REDUCES OR MELTS FAT
Compared to other options like truSculpt iD, truSculpt 3D, SculpSure, or CoolSculpting, which primarily focuses on targeting excess body fat and is good for shrinking the size of your waist, Emsculpt works differently.
By upticking the level quantity of lactic acid, Emsculpt makes sure the body gains the required aerobic capacity to help lose fat. It's also able to disrupt underlying fat cells present at the bottom of your fat pad. This ends their life and drains them through the lymphatic system of your body.
Get The Best Value for Money On Your Emsculpt Treatment
The Emsculpt therapy works in conjunction with several treatment options to build and burn fat. A regular Emsculpt treatment pack will involve four sessions per treatment over the span of two weeks.
At Pakenham Medical Clinic, we offer a flexible pricing and comprehensive package that's clinically tested, and most importantly, made to get you the best results you desire.
Note: For body sculpting treatments which are prepaid, they will only by used at the respective clinic from where they were initially purchased
| Regular Service Package of 4 | Price |
| --- | --- |
| 4 x Abdominals | $996 |
| 4 x Buttocks | $996 |
| 4 x Biceps | $996 |
| 4 x Triceps | $996 |
| 4 x Calves | $996 |